In light of the improved health situation in France, the government launched the second stage of deconfinement yesterday.
Travel, reopening of cafés, bars and restaurants, parks and gardens, gradual resumption of cultural and sporting life, preparation of holidays… Phase 2 of the deconfinement will take place from 2 to 21 June 2020.
Since yesterday, France is therefore distinguishing an orange zone, which includes Île-de-France, French Guiana and Mayotte (an area that still requires special vigilance), and a green zone for the rest of the departments.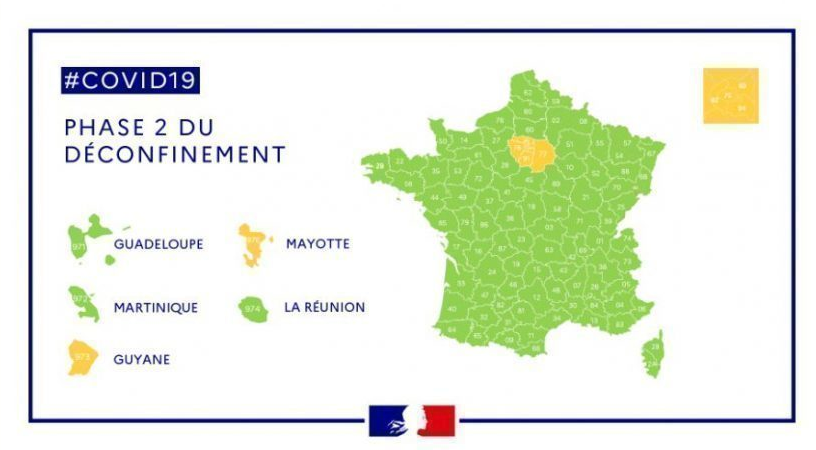 The government reiterated that respect for physical protection measures and social distancing must remain rigorously in place. The limit on gatherings of 10 people in the public spaces is maintained and employees working from home is still to be favoured.
Cafés, bars, restaurants
Reopening of all establishments in the green zones; and
Partial reopening of the establishments (terraces only) in the orange zones.
For all cafés, bars and restaurants, a minimum distance of 1 metre between each table and a maximum of 10 people per table must be respected. Also, masks must be worn by employees and customers when moving around.
Tourist accommodation (holiday villages, family holiday homes, hotels and campsites)
Tourist accommodation can also open provided that specific sanitary rules are respected:
Opening on 2 June 2020 for the green zones; and
Opening on 22 June 2020 for the orange zones.
Children's summer camps will reopen on June 22, 2020.
Travel
The Prime Minister also announced last Thursday, the end of the ban on travel over 100 km from 2 June.
Nevertheless, travel between metropolitan France and overseas France remains subject to overriding health, family or professional reasons, with specific measures for Mayotte and French Guiana.
For travel within the European Union, internal border restrictions are maintained until 15 June 2020. European coordination will be put in place from this date to reopen internal borders but also to adopt a common position on travel outside the European Union.
Culture, leisure, sports
As with tourist accommodation, leisure facilities may be opened on condition that specific sanitary rules are respected:
30 May 2020 for parks and gardens;
June 2, 2020 for beaches, lakes and bodies of water;
2 June 2020 for all museums and monuments; and
22 June 2020 for all cinemas.
And more specifically, swimming pools, gymnasiums and sports halls, leisure parks, theatres and concert halls will reopen:
June 2, 2020 for the green zones; and
on 22 June 2020 for the orange zones.
Reminder: Until at least 21 June 2020, the following are not yet permitted or open to the public:
gatherings of more than 10 people in the public space;
team and contact sports;
discos and game rooms; and
stadiums and race courses.