Why is the quality of your input data so important?
Poor data quality is usually not as unproblematic as one might think. A closer look can quickly identify a wide variety of deficiencies, depending on the degree to which the data is structured.
Now let's be honest – have you ever dealt with or considered this issue at your company?
The most important example of the need for good data quality would be the fiscal archive, for whose formal correctness the input data from the POS system is essential.
The data must contain all the necessary data fields so that the cash register operator is on the safe side in the event of an audit. In practical application, poor or insufficient data can take many forms and result in various problems such as damage to image or legal consequences. The costs of poor data quality can also be far-reaching.
Which input data must be available?
From the point of view of a cash register manufacturer or cash register dealer, it is imperative that the following data fields are transferred correctly:
cbUser
cbAmount
ftChargeItemCase
ftPosSystemId
For more detailed information and a complete overview of the input data please have a look at our documentation: Reference tables | fiskaltrust Documentation Platform
As a seller of POS systems, how do I know if the data quality is ok?
To make it as easy as possible for every user to check the most important data, fiskaltrust has implemented a data check on every queue in our portal. This simple and straightforward feature gives you a quick overview of the data quality, clearly identifying any deficiencies.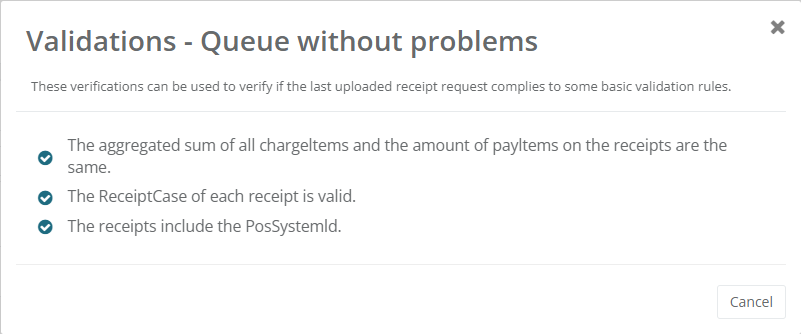 We recommend the following steps:
Review the data checks of your queues to ensure that the data fields are correctly populated and transmitted to fiskaltrust.
Contact our Customer Success Team to take a joint look at our e-journal for missing or incorrectly transmitted data.